FEI Quanta 600 FE-SEM
Pricing
$60/Hour
TAMU Users & Federal Government Agency Users
$50/Hour
Off-Peak & Automated Runs
(TAMU Users & Federal Government Users only)
5:00 p.m. - 8:00 a.m.
$120/Hour
Other Universities
$260/Hour
Industry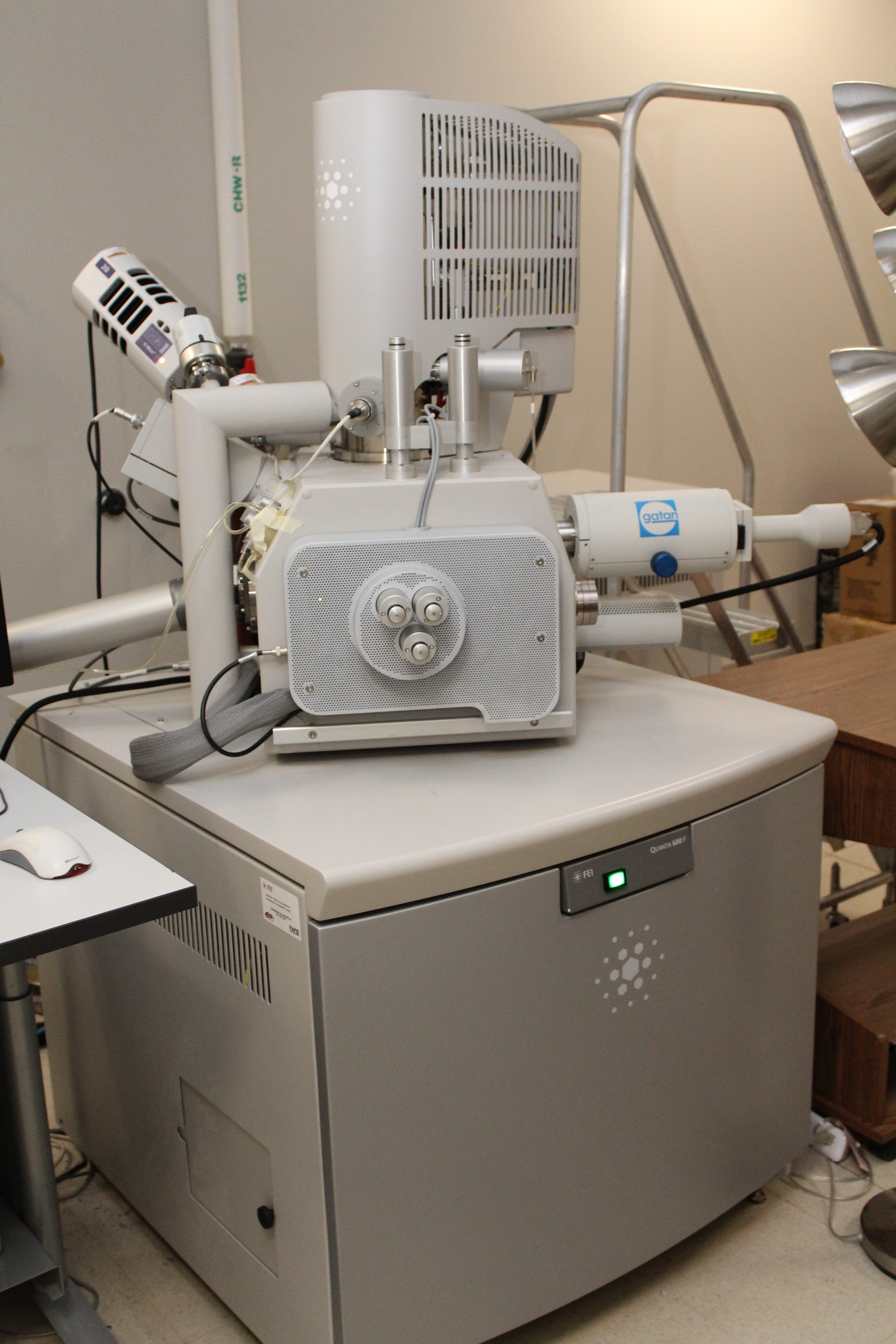 Capabilities:
The Quanta 600 FEG is a field emission scanning electron microscope capable of generating and collecting high-resolution and low-vacuum images.
Specifications:
Source: Field emission gun assembly with Schottky emitter source
Voltage: 200kV to 30kV
Beam current: >100nA
Resolution:
(measured as gold particle separation on a carbon substrate):
High vacuum

1.2nm at 30kV (SE)
2.5nm at 30kV(BSE)
3.0nm at 1kV (SE)

Low vacuum

1.5nm at 30kV (SE)
2.5nm at 30kV (BSE)
3.0nm at 1kV (SE)


Magnification:
7x (at longest working distance) to 2,000,000x in single quadrant view of the Quanta user interface on a 10″ LCD monitor
Field of View:
Identical field of view in high and low vacuum modes (17mm at longest working distance)
500µm with standard, axial, gaseous secondary electron (SE) detector

Stage:
Motorized x-y-z-tilt-rotate stage that provides the following movements:

x = y = 150mm (motorized)
z = 65mm (motorized)
Tilt +70° to -5° (motorized)
Digital Image Size:
4096 x 3536
2048 x 1768
1024 x 884
512 x 442
Equipment associated with the Quanta 600 includes: conventional Everhart-Thornley detector, back-scattered electron detector, IR-CCD chamber camera, Oxford EDS system equipped with X-ray mapping and digital imaging, HKL/Oxford EBSD System including geological phase database for phase ID, and Gatan panchromatic cathodoluminescence detector with RGB filters.
Images can be saved in TIFF, BMP, JPEG or AVI file formats in 8-bit or 16-bit depth to the hard drive.
for imaging services, training or other questions
please contact Tom Stephens, tstephen@tamu.edu.
---
Helpful Hints: