Zeiss Z.1 Lightsheet Microscope
Pricing
$65/Hour
TAMU Users & Federal Government Agency Users
$55/Hour
Off-Peak & Automated Runs
(TAMU Users & Federal Government Agency Users)
$130/Hour
Other Universities
$260/Hour
Industry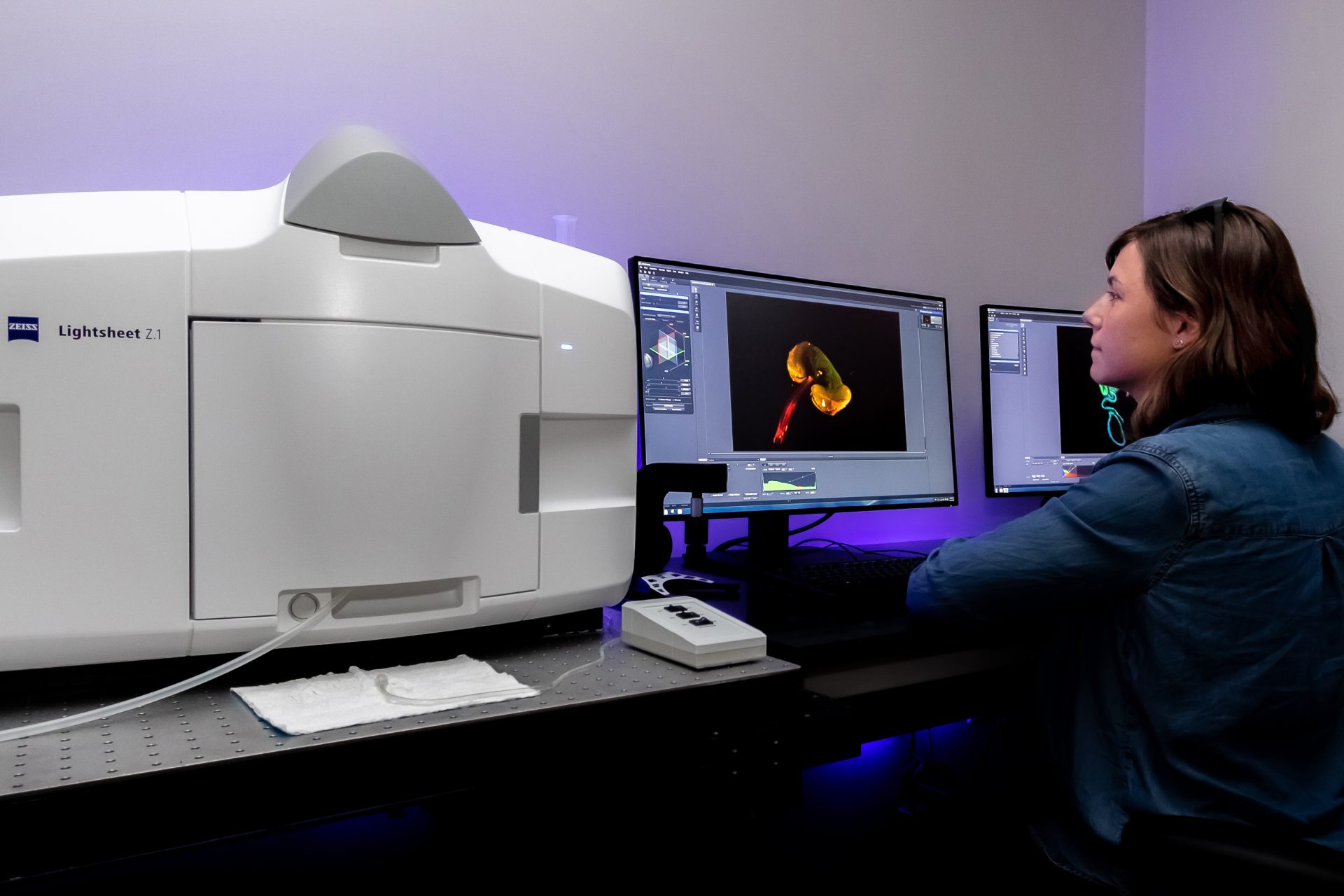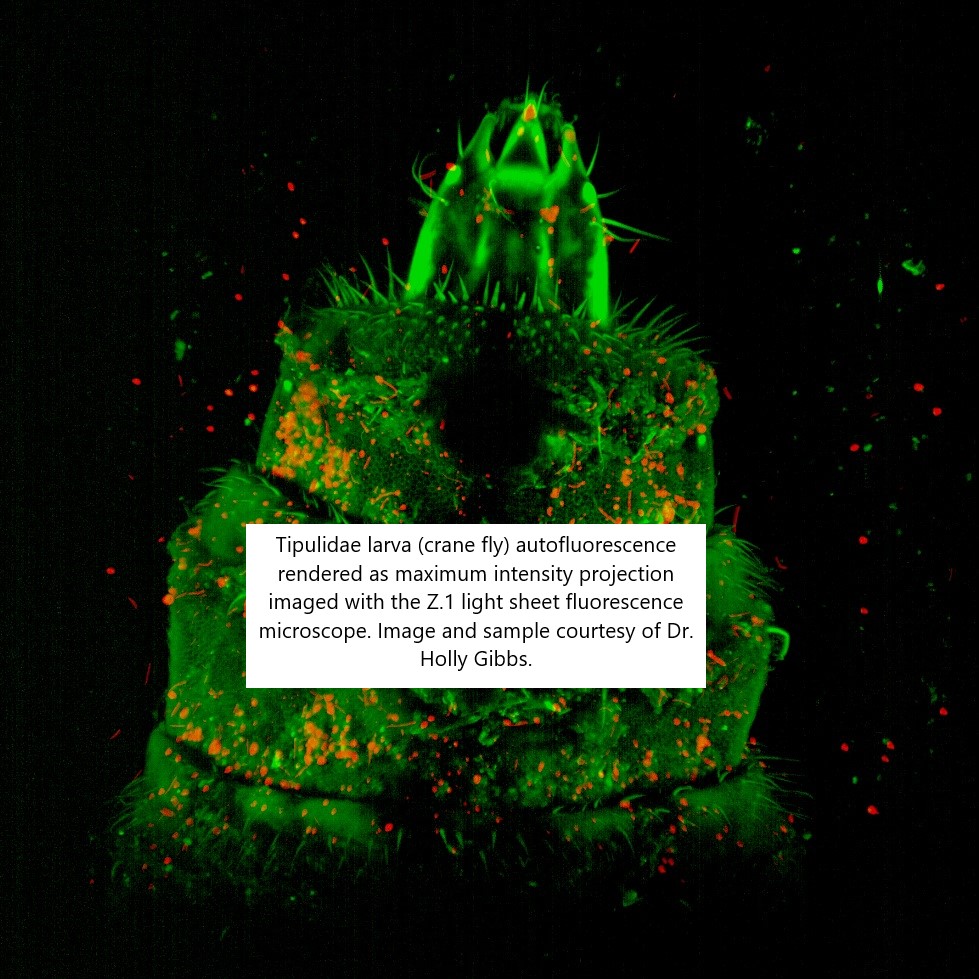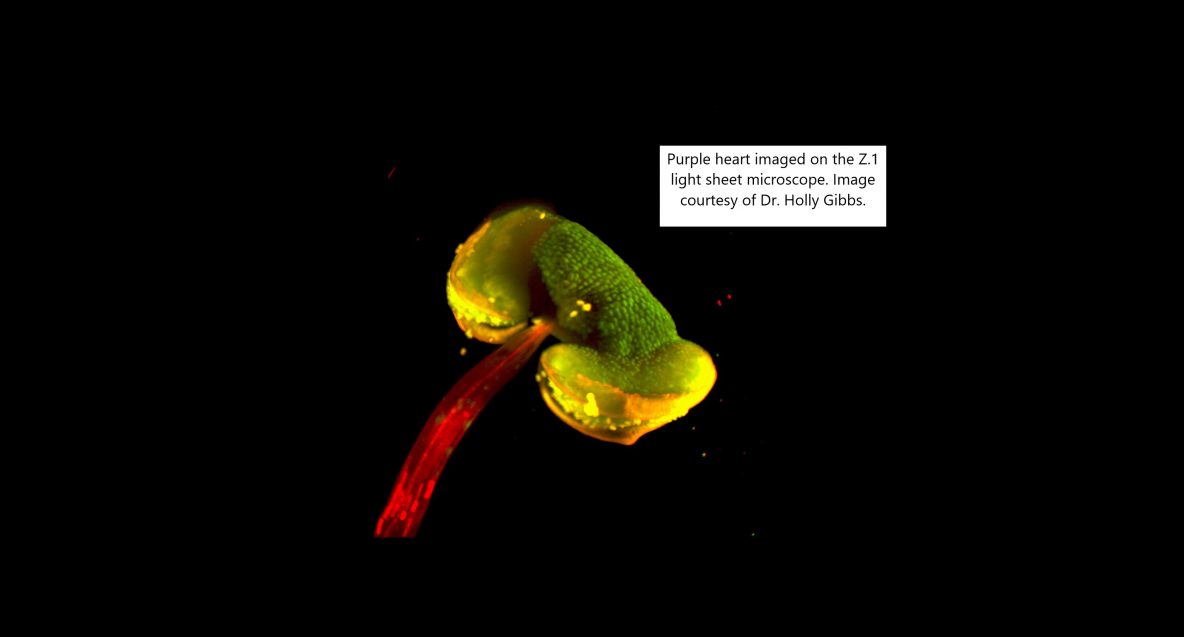 Capabilities:
The Z.1 Light Sheet Fluorescence Microscope illuminates samples with a focused sheet of laser light to simultaneously image an entire plane, minimizing photobleaching and maximizing acquisition speed. It is ideal for automated multiview long term 3D fluorescence imaging of large, relatively transparent live samples (eg. zebrafish embryos) or multiview imaging deep into large cleared specimens (eg. mouse spinal cord).

Specifications:
Imaging Modes: The Z.1 LSFM is designed for samples suspended in an imaging chamber from a controlled stage (xyz and rotational control) above. In this configuration, the Z.1 can achieve the following imaging modes.

Basic: xyzt, multicolor (2 simultaneous, additional colors w/ sequential acquisition)
Multiview: automated xyzt at different viewing angles (registration in Zen or open software)
Multisample: automated xyzt of different samples (works w/ multiview if desired)
Tiling: automated acquisition of tiles (stitching in open software packages)
Objectives:
20X, 1.0 NA for imaging live samples
20X, 1.0 NA for cleared samples
5X, 0.16 NA for live or cleared samples (5mm maximum)
zoom optics to change effective magnification over broader range
Lasers:
405nm, 50mW solid-state laser
488nm, 50mW solid-state laser
561nm, 50mW solid-state laser
638nm, 75mW solid-state laser
Detectors: Two liquid-cooled PCO edge sCMOS cameras (10-40 frames/second,1920×1920 pixels
Software: Zen Black acquisition with limited image visualization and processing capabilities

for imaging services, training or other questions
please contact Holly Gibbs, hgibbs@tamu.edu.
---
Helpful Hints:
Ideal samples for the Z.1 will be whole tissue mounted in a column of agarose in a syringe or capillary tube so that it can be suspended in the focus of the illumination and detection objectives. The tissue can be live and transparent (for example, zebrafish embryos) or fixed and optically cleared. Large, scattering tissues will not be suitable as the light sheets will not penetrate all the way through. Please come visit us for assistance in planning your sample preparation.
Light-sheet microscopy experiments can quickly fill your storage devices as imaging sessions can easily generate GB size data sets. Have a plan for storing, handling and processing these large data sets in advance. If interested, we can develop custom software for project-specific image processing on a collaborative basis through funding from the Chan Zuckerberg Initiative.