Olympus FV1000 confocal microscope
Pricing
$50/Hour
TAMU Users & Federal Government Agency Users
$40/Hour
Off-Peak & Automated Runs
(TAMU Users & Federal Government Users only)
5:00 p.m. - 8:00 a.m.
$100/Hour
Other Universities
$200/Hour
Industry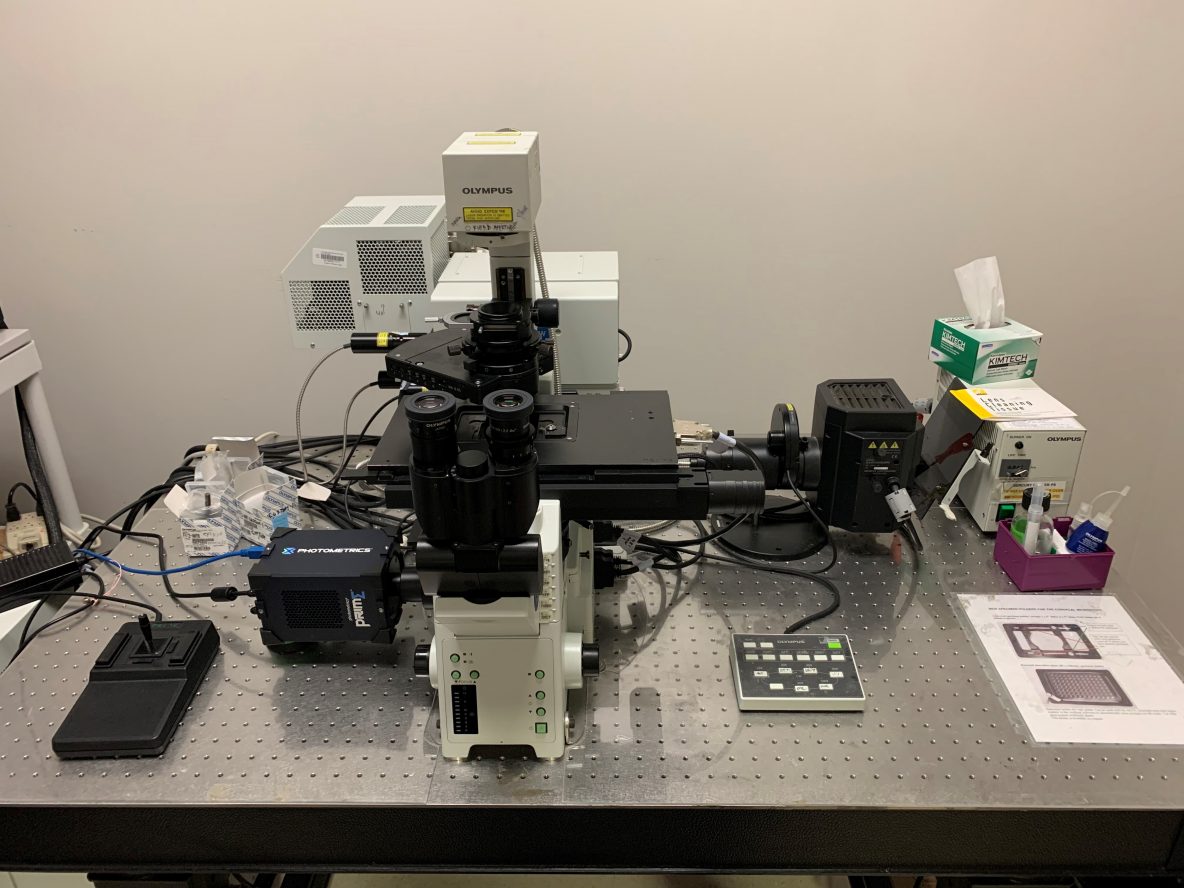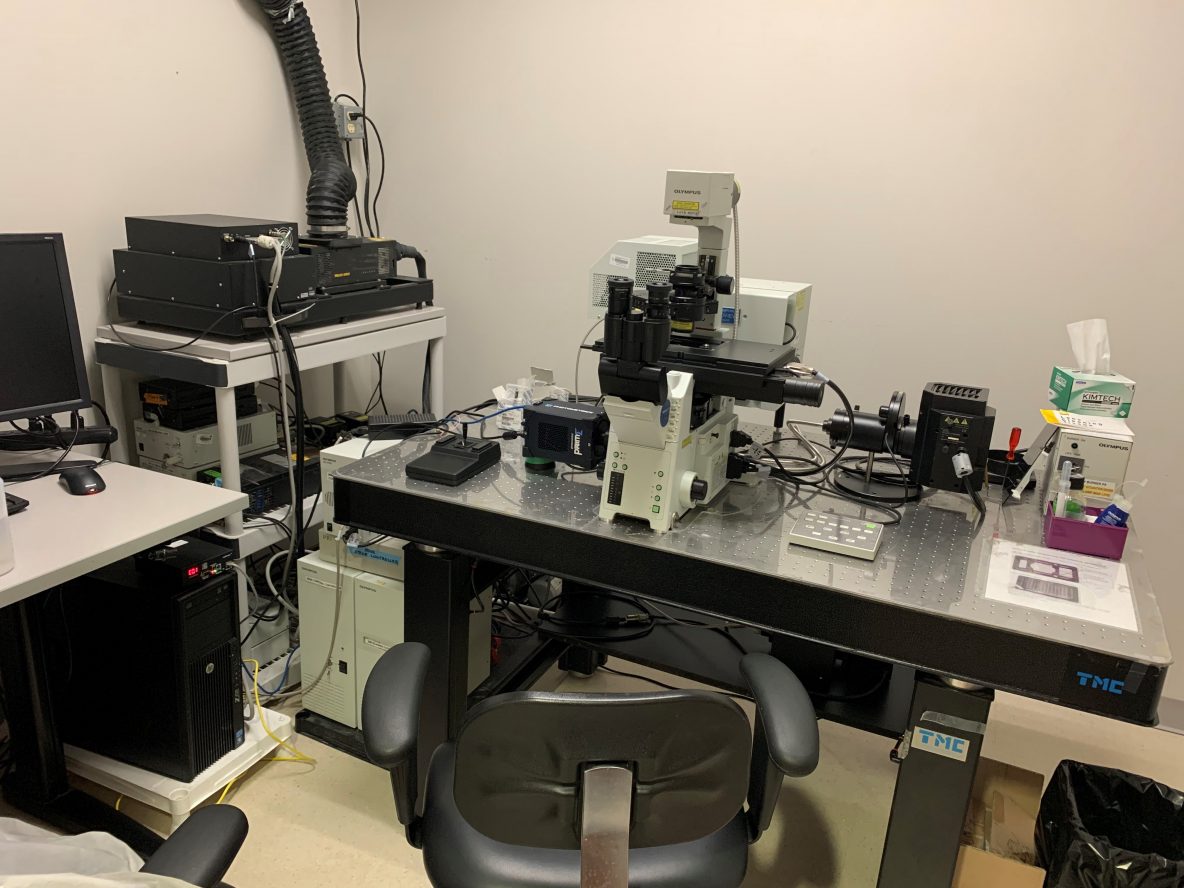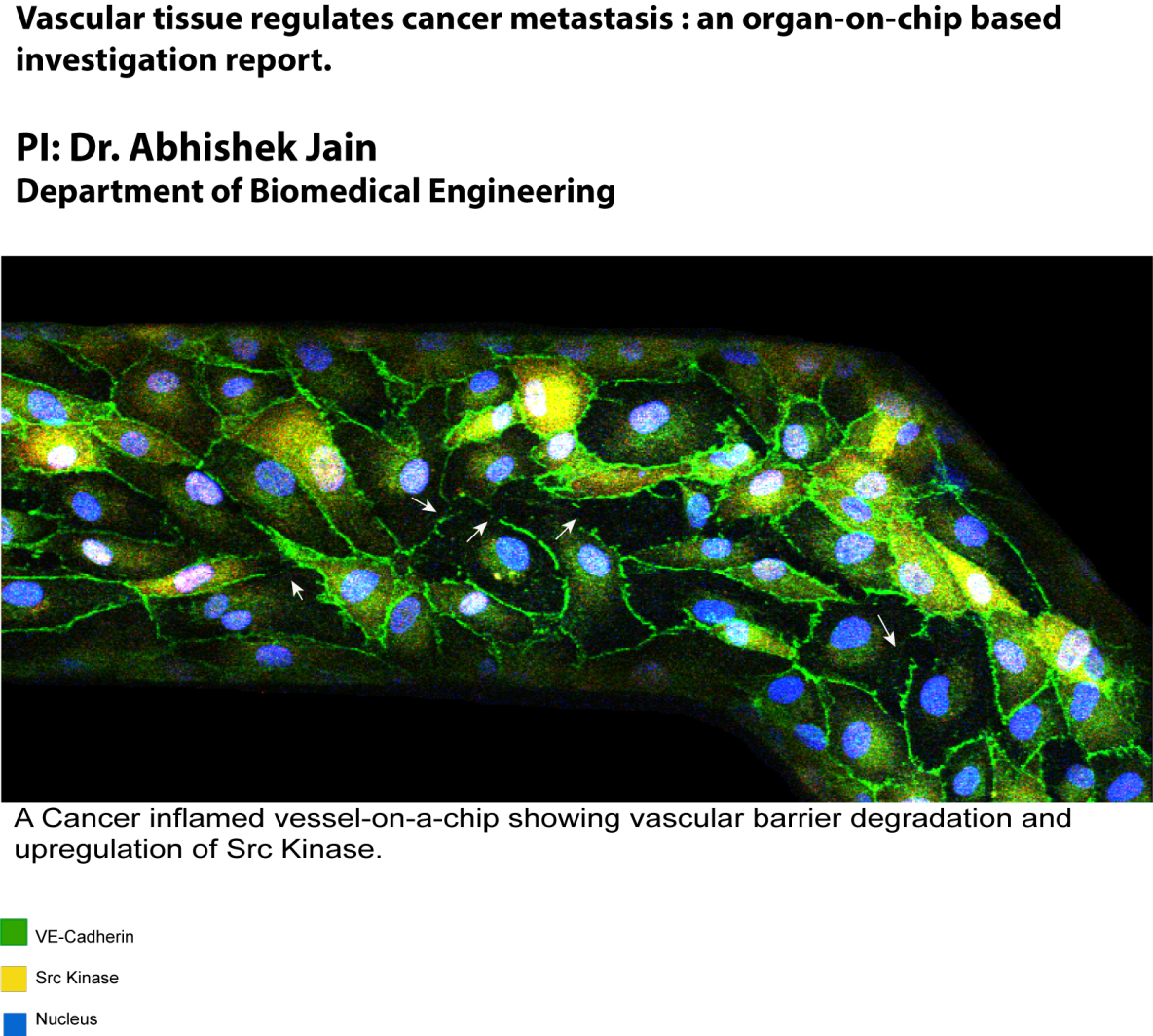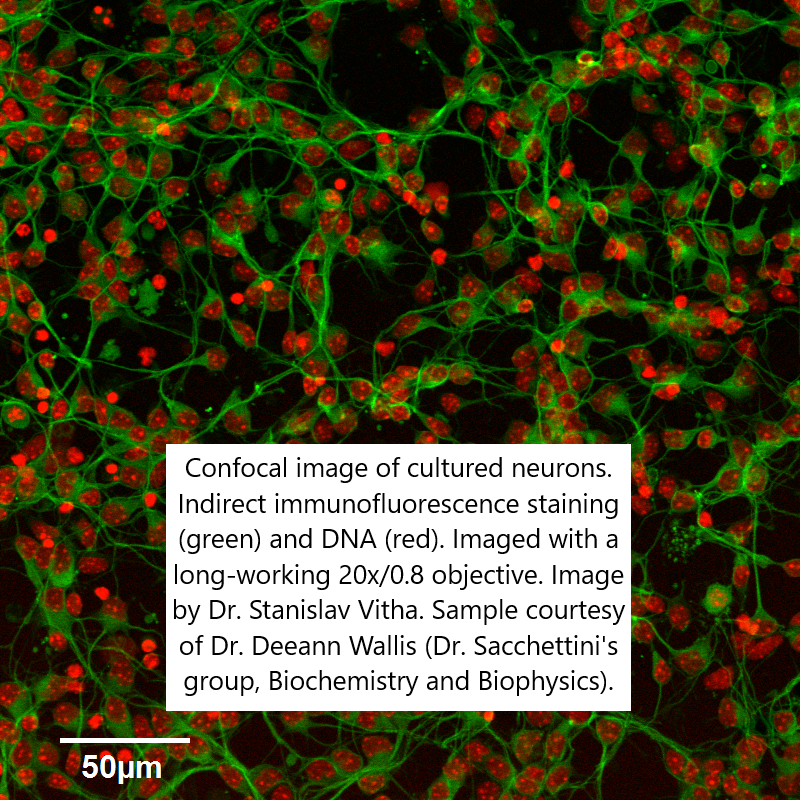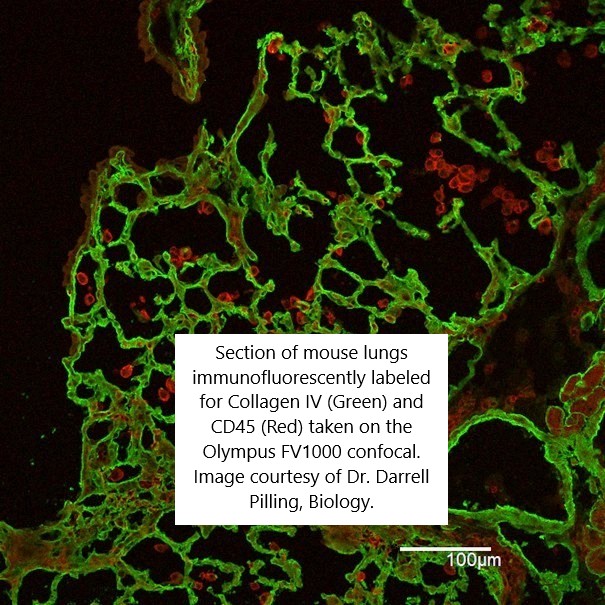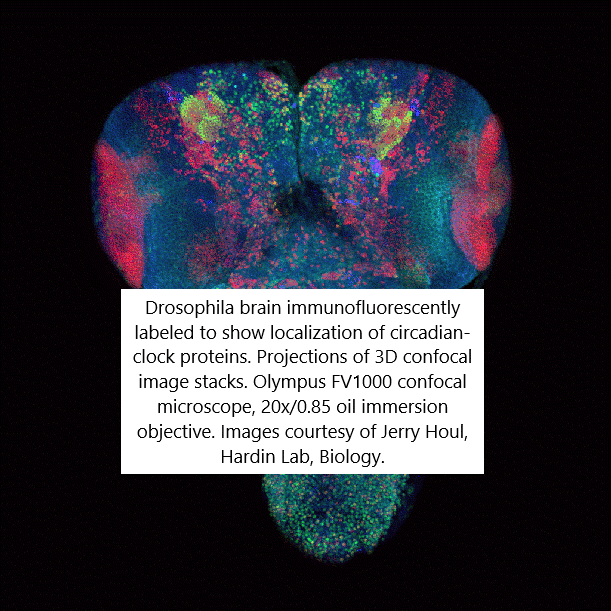 Capabilities:
Confocal microscope capable of optical sectioning and 3D imaging of fluorescently labeled samples. Live (BL1) or fixed, fluorescently-stained samples can be imaged.
In addition, the inverted IX81 microscope is equipped with a sensitive monochrome sCMOS camera and can be used for regular wide-field fluorescence imaging with the Micro-Manager control software. This will require a separate user training (~2 hours). The short user guide for this mode is here: Using the Olympus IX81 for Epifluorescence Imaging
For information on compatible fluorescent dyes, choice of objectives, mounting media and imaging plates/chambers, see this document: https://microscopy.tamu.edu/fluorophore-mounting-media-and-imaging-chamber-selection-for-the-olympus-fv1000-confocal-microscope/
Specifications:
Imaging Modes:
Fluorescence: time-lapse, Z-stacks, image stitching
Transmitted light: DIC
Objectives:
10x/0.4, 20x/0.75, 40x/0.95 dry objectives
20x/0.85 oil, 100x/1.4 oil immersion objectives
60x/1.2 water immersion objectives
20x/0.45 and a 60x/0.7 long working distance objective for imaging through thick (several mm) layers of the specimen
Lasers:
405nm, 458nm, 488nm, 515nm, 543nm, and 633nm imaging lasers
SIM scanner for photoactivation/photobleaching at high temporal resolution with a 405nm laser used independently from the imaging lasers
FILTER SETS for visual observation (not for confocal imaging):
Excitation and Emission filters are described by a central wavelength and bandwidth, or LP for "longpass" in beamsplitters. For example, 350/50 denotes 325-375nm.
| | | | | |
| --- | --- | --- | --- | --- |
| name | Chroma Cat. # | Excitation | Beamsplitter | Emission |
| DAPI/Hoechst/AMCA | 31000v2 | 350/50 | 400dclp | 460/50 |
| Cyan GFP v2 (CFP) | 31044v2 | 436/20 | 455dclp | 480/40 |
| Endow GFP | 41017 | 470/40 | 495lp | 525/50 |
| Yellow GFP (YFP) | 41028 | 500/20 | 515lp | 535/30 |
| Cy3 | 41007a | 545/30 | 570lp | 610/75 |
| Texas Red | 41004 | 560/55 | 595lp | 645/75 |
Detectors:
3 standard detectors (2 of these are capable of spectral imaging)
Transmitted light detector
Two highly sensitive GaAsP detectors
Stage:
Inverted IX81 Microscope with a motorized XY stage. The motorized stage allows assembly of large image mosaics and automated imaging of specimens in multi-well imaging chambers.
Specimen holders which accept standard microscope slides, Petri dishes up to 60mm in diameter, and standard-size (85 x 128mm) multiwall culture plates.
Live cell imaging in an environmental enclosure that maintains temperature, CO₂, and humidity
Software:
Full version of the Fluoview software is available for off-line analysis on a PC in our computer room, free of charge.
FOR IMAGING SERVICES, TRAINING, AND QUESTIONS
please contact Dr. Stanislav Vitha, stanvitha@tamu.edu
---
INSTRUCTIONS, DOWNLOAD LINKS AND HOW-TO DOCUMENTS: